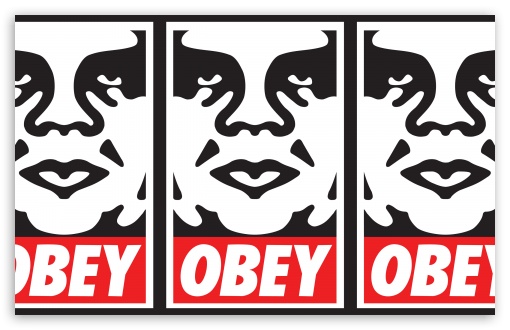 In 1989, while studying at the Rhode Island School of Design, Shepard Fairey birthed the concept of a sticker campaign entitled
Andre the Giant has a Posse
that has since evolved into the worldwide phenomenon
OBEY Giant
campaign (above) and accompanying clothing line. In his 1990 manifesto, Fairey cites
Martin Heidegger'
s concept of
phenomenology
as his main inspiration, alongside John Carpenter's movie
They Live;
from which Fairey 'borrows' his famed "Obey" and "This is your God" slogans. The manifesto goes on to explain that
"The sticker has no meaning but exists only to cause people to react ... the various reactions and interpretations of those who view it reflect their personality and the nature of their sensibilities.... Whether the reaction be positive or negative, the stickers existence is worthy as long as it causes people to consider the details and meanings of their surroundings."
Known most widely in the worlds of skateboarding and street art, Fairey drew new levels of attention in 2008 with his iconic portrait of Barack Obama (above), which helped to set the stage for his first solo museum show
Supply and Demand
at The Institute of Contemporary Art in Boston in 2009; hailed as "the first museum survey of one of the most influential street artists of our time." The portrait is now owned by the Smithsonian Institution for its
National Portrait Gallery
. Fairey's work, which combines elements of graffiti, pop art, business art, appropriation art, and Marxist theory, has long been divisive. Supporters point to the viral nature of his images, the DIY ethic behind his operation, and the brute cultural impact of his work. Meanwhile his critics have accused him of being a sell out and hastening the over-commercialization of street culture. Regardless, Fairey remains ambivalent about both achieving art-world validation and retaining his street cred.
View the entire 1990
OBEY Manifesto
and a quick flip through of
Obey: Supply & Demand - The Art of Shepard Fairey.
Also visit Fairey's
website
for headlines and current events.
Sources:
http://www.interviewmagazine.com/art/shepard-fairey#_
http://www.icaboston.org/exhibitions/exhibit/fairey/
http://en.wikipedia.org/wiki/Shepard_Fairey