The Soothsayer's Recompense by Giorgio de Chirico was painted around 1913 and was only one of many of his paintings that depicted Ariadne in her famous position she held as she fell asleep on the beach waiting for the man who she wishes to be with forever to return, which of course he does not. Ariadne is present in a few of Chirico's paintings, which may raise the question as to what role she played in his life as he was a child or what she means to him that she is so important to be in all of these different paintings.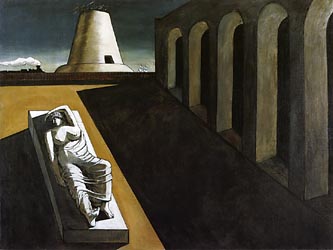 Ardiadne, also painted in 1913 by Giorgio de Chirico shows Ariadne in her reclining position in a desolate public square that, too, is the scene of many of Chirico's paintings. This is a different perspective of the same town square that is in a lot of is paintings. Perhaps the reason he painted Ariadne so often was that her story evoked his native past of Greece. The train that is in the background of this painting and the one prior is represntative of his father of whom he was afraid. His ather worked on locomotives, so this may be why he is represented here as one.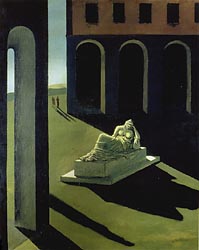 Melancholy, 1912 by Giorgio de Chirico came out the same year as a song entitled "My Melancholy Baby" may have either influenced or been an influence on the title of Chirico's painting of the same year. it is a relatively short song with few lyrics, but the lyrics depict two lovers perhaps, one asking the other to cuddle up to them so they can chase away all of their fears or they will be melancholy too. This painting has the same Ariadne figure in the same position as she so often holds in this artist's paintings in the same empty town sqaure that is a scene he often uses with the sculpture of Ariadne.