David LaChapelle, Sermon from the Jesus is My Homeboy series (2003)
When artist, David LaChapelle, passed someone on the street wearing a "Jesus is my Homeboy" shirt, an idea started in his head. Later he began to create pictures depicting what Jesus' disciples would look like had this taken place in today's world. "LaChapelle created this series of six photographs entitled
Jesus Is My Homeboy
, which was originally published in the British magazine

i-D

in 2003, then exhibited later in 2008 in
London
and
St. Moritz, Switzerland
" (Jesus is my Homeboy: A photograph series).
The people that Jesus was friends with were not the suited up, rich and religious people of his time. He made friends with the poor, homeless, thugs, the cheats, the liars, the prostitutes, the drugees, and so on. "The apostles were not the aristocracy, they were not the well-to-do, they weren't the popular people; they were sort of the dreamers and the misfits," LaChapelle said in a
2008 interview for
The Art Newspaper TV
. The people in this picture show us in modern time the kind of people Jesus would have befriended today. They aren't the perfect people, they are the people we would see on the street and stay away form. But that is the point LaChapelle is trying to convey about his faith. He retells some of the stories from the bible as if it was modern times.
I absolutely love this series. Being a Christian myself I see exactly where he is coming from and this series is absolutely amazing. Jesus is always told like he is an old story, that we cannot relate to. But these pictures show that even if Jesus came today, He is who He said He is. Gracious, kind, merciful, loving, and so on. He doesn't look for perfect.
These other pieces go along with this series and I thought if you present one of them in the HVS then you should put the others along with it.
These are a few of the merchandise that came out before the paintings, and one of these shirts is probably one of the ones LaChapelle saw before creating his series. This would also be very great to present in the HVS.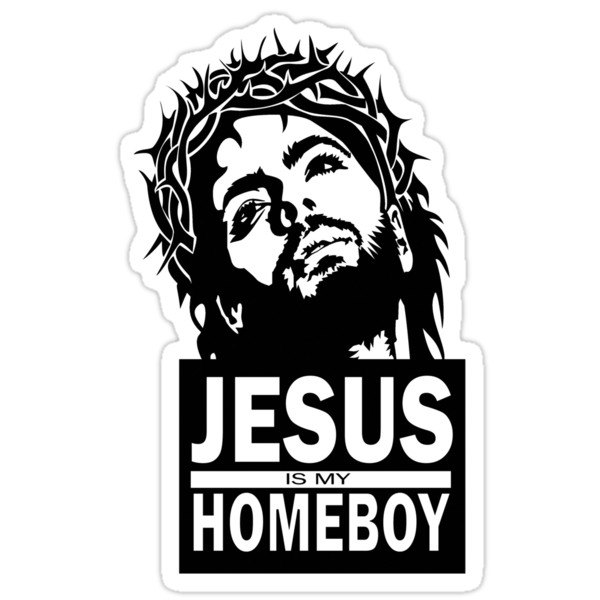 Source: http://thejesusquestion.org/2011/06/29/jesus-is-my-homeboy-a-photograph-series/